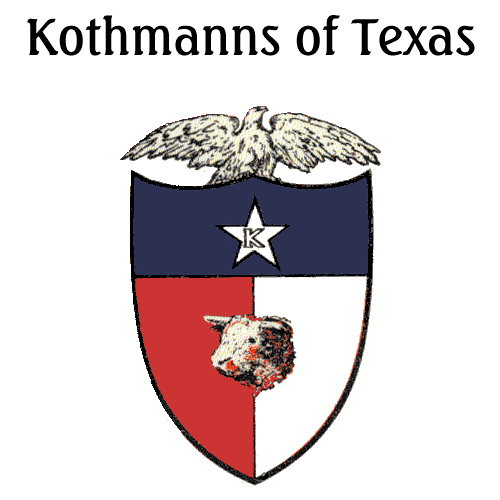 Minutes of the 2013 Reunion
June 15, 2013
The 46th Kothmann Family Reunion was held at Pioneer Pavilion, Lady Bird Park, Fredricksburg, Texas on June 15, 2013.
CHAIRPERSON: Leslie Lynn Kothmann
ATTENDANCE: Approximately 315 members were present.
MEAL: After a devotional prayer lead by Leslie Kothmann, a traditional BBQ meal was held offering chicken and beef. Deserts were provided by family members.
MEETING:
Leslie Kothmann called the meeting to order at appoximately 2:05 p.m.
After a moment of silence, Leon Kothmann read the names of the deceased descendants since the date of the last reunion.
Minutes from the last reunion were not read.
Leslie Kothmann presented a report from Riley Kothmann that showed income of $3,945.00 and expenditures of $2,531.87 from last reunion, with $1,403.13 remaining. Income and revenue for the current reunion has not been tallied yet. Dora Wright reported that the Book Committee balance was $5,306.04 in the account. Dora Wright reported the Cemetery work was completed at Art, Texas and balance in the Cemetery Fund is $1,471.00.
Dora presented the "Hot Pads" made and given to the family by Toni Hausler Janis. These specialty items will be sold for a donation. (They brought $184.00).
Dora Wright made an informational powerpoint presentation that covered the Explanation of the emblem, Statistics, and a review of the Numbering System to remind family members how The Kothmanns of Texas Book is organized. She also presented how photos are identified and how restoration work is being done on some of them. Dora reported that the new Fifth Edition book will be 8 1/2 x 11 size with a two column format. Dora urged everyone to make sure that fifth generation stories are submitted. Since the last reunion, 688 descendants have been searched or found. There are 4,012 direct descendants and with spouses: 5,927 descendants of Heinrich Conrad Kothmann.
The 2015 reunion chairpersons were announced and recognized: Katie Kothmann Haby and Karla Kothmann Radicke, daughters of Roy Kothmann. Other reunion committee members will be chosen by the chairmen.
HONORED MEMBERS:
Jane Hoerster, 91, on Jun 9th and Kathleen Kothmann Smith, 91, on June 12, were recognized as the oldest members present.
Pierce Raedeke was the youngest member at 2 months.
Rick and Sue Laituri, Valley Springs, California traveled 1670 miles to attend the reunion. Karl Hoerster traveled from Baltimore, MD (1640 miles) and Lisa Howard from Nottingham, MD (1640 miles). Other members that traveled long distances to attend were Dennis and Marvie Kothmann, Big Pine, CA (1480 miles); Richard, Teresa and Karen Doerr, St. Augustine, FL (1150 miles); Sebastian Kothmann from Milton, Florida (774 miles); Seymour and Maggie Pooley, Ridgeland, MS (624 miles).
The Nell Kothmann and Awbrey Kothmann Families had the most family members present, 24 each. Nell's family represents family #1 and Awbrey's familys is from Family #4.
ENTERTAINMENT:
For the kids: Glow in the dark armbands and a game van.
For the adults: Ron Knuth and his band "Frio Trio" played.
The meeting was adjourned for additional visiting and listening to the band. A book committee meeting was also held after the reunion.
You are at http://www.kothmannsoftexas.org/minutes2013.html
Return to Reunion Minutes webpage.
Copyright © Kothmanns of Texas