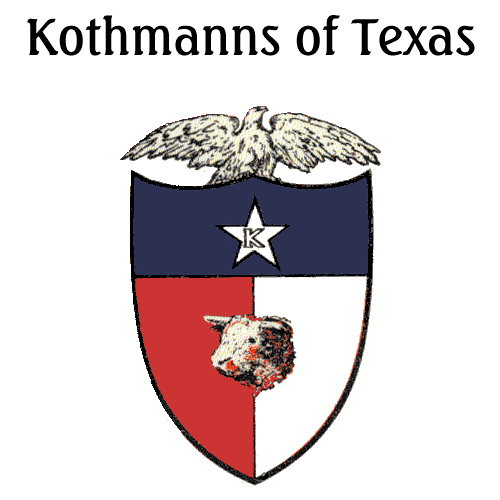 You are at our web home: http://www.kothmannsoftexas.org/
THE KOTHMANNS OF TEXAS
Family Cookbook
Kothmann Family Cookbooks are still available!
362 pages of Kothmann Family Recipes, full color dividers, helpful hints, places to make notes, an included cookbook stand and a pocket to store your own recipes! A FREE e-book copy is also included.
Mail your check or money order to:
Kothmann Book
c/o Dora Kothmann Wright
5714 E. FM 2092
Menard, TX 76859
Include: number of books ordered ($25.00 each), your full name, mailing address, e-mail address, phone number, and your Kothmann Book Number.
Mailing options are available for an additional $5 fee. Please send a check or money order. We are not set up to take credit card orders at this time. You can also arrange to pick up your book(s) from Dora.
For questions concerning the book contact Dora Kothmann Wright or call her at 325-456-1875.
Cookbook committee: Jesse Black (chair) (K#97111), Dora Kothmann Wright (K#44521), Kathy Wright Mews (K#445211)
Copyright © Kothmanns of Texas