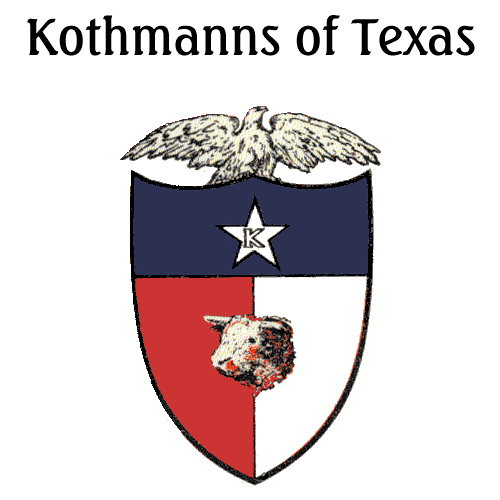 THE KOTHMANNS OF TEXAS
Family History Book
The Fifth Edition is a Two-Volume Set for $100.00.
Book #1 - The Family history, Generations 1-5, 630+ stories, 1060+ photos;
Book #2 - complete genealogy of all descendants.
All contained together in one book sleeve.
Mail your check or money order to:
Kothmann Book
c/o Dora Kothmann Wright
5714 E. FM 2092
Menard, TX 76859
Include: number of sets ordered ($100.00 each), your full name, mailing address, e-mail address, phone number, and your Kothmann Book Number.
Mailing options are available for an additional $10 fee. Please send a check or money order. We are not set up to take credit card orders at this time. You can also arrange to pick up your book(s) from Dora.
For questions concerning the book contact Dora Kothmann Wright or call her at 325-456-1875.
Copyright © Kothmanns of Texas